[Home] [Windmill Webcam] [Vicinity Webcams] [Windpower] [Privacy] [Inspiration] [Old] [Older] [Links]
BugMeNot.com - Tell everyone you know. Because Common sense isn't.
National D-Day Memorial
Bedford, Virginia
2007 March 28
(Text below was taken from plaques)
The National D-Day Memorial exists to celebrate and honor the Valor, Fidelity, and Sacrifice of the Allied Forces on D-Day, June 6, 1944. Physically, morally, and intellectually courageous, those soldiers, sailors, airmen, marines, coast guardsmen, and merchent seamen kept faith with the Alliance, their homelands, the chain of command, the mission, their units, and their fellows. In so doing, they necessarily set aside comfort, safety, innocence, youth, blood - even life itself. This monument pays tribute to those who died on D-Day but also to those who lived to secure the beachhead and carry freedom inland - and to those who transported the ground forces by air and sea, provided their aerial and naval support, and delivered their combat and combat-support services. D-Day's success owes an incalculable debt to its participants. That you yourself are free and here today is but a portion of their rich and enduring legacy. Treasure it.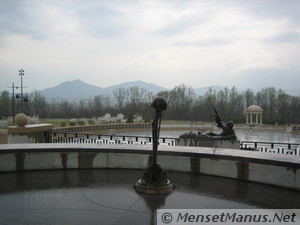 HEROISM IS SIMPLE, AND YET IT IS RARE. EVERYONE WHO DOES THE BEST HE CAN IS A HERO.


_ JOSH BILLINGS

HE THAT TRUSTETH IN HIS OWN HEART IS A FOOL.

_ PROVERBS 28:26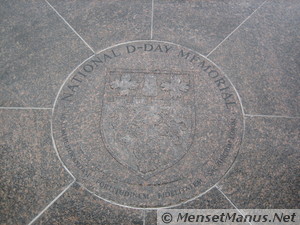 NATIONAL D-DAY MEMORIAL
AD COMMENDORANDAM * FORTITUDINEM * FIDELITATEM * SACRIFICIUM EORUM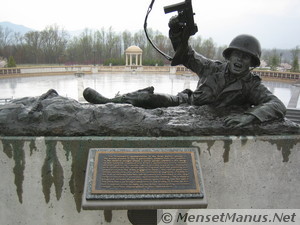 This monument's representation of the three distinct phases of the events around D-Day is particularly evident from this position. In the distance straight ahead, a formal garden planted in the design of the Supreme Headquarters Allied Expeditionary Force (SHAEF) shoulder patch, its crusader sword pointed toward the triumphal arch, symbolizes the landscape of England and the planning and preparation that the Allies engaged in there. The central plaza two stories below this one, with five symmetrical segments alluding to the five Normandy beaches, whose names are inscribed in the large circle on the floor to your rear, represents the landing. The sculptural group that includes the partially visible figure starting over the wall to this plaza has a particular connection to the scaling of Pointe du Hoc, but it applies more broadly to the Allies' surmounting of Fortress Europe - a victory memorialized by the Overlord Arch.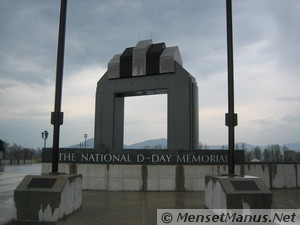 OVERLORD
THE NATIONAL D-DAY MEMORIAL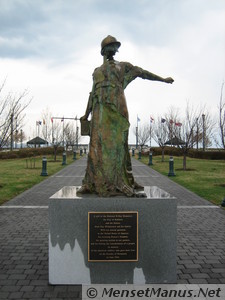 A gift to the National D-Day Memorial,
the City of Bedford,
and the Nation,
from Guy Wildenstein and his family.
With our eternal gratitude
to the United States of America
for restoring France's freedom,
for granting asylum to our parents,
and for halting the extermination of a people.
In memory
of the American soldiers who gave their lives
on the beaches of Normandy
in June 1944.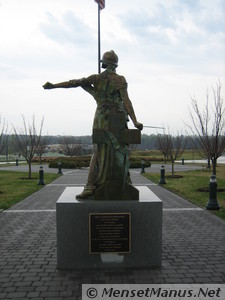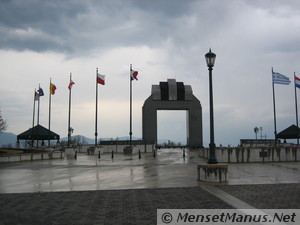 OVERLORD
JUNE 6, 1944
THE NATIONAL D-DAY MEMORIAL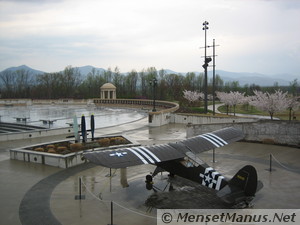 SERGEANT TULLIDGE WAS KILLED ON 7 JUNE 1944 IN A FIREFIGHT OUTSIDE ST. MERE EGLISE. HIS
"AGGRESSIVENESS AND UNUSUAL COURAGE" DURING THE FIGHT RESULTED IN HIS BEING AWARDED THE BRONZE STAR
POSTHUMOUSLY. THE GENERAL ORDER AWARDING THE MEDAL RECORDS THAT THE WOUNDED SERGEANT TULLIDGE
"REFUSED TO WITHDRAW UNTIL THE ENEMY HAD BEEN COMPLETELY ROUTED."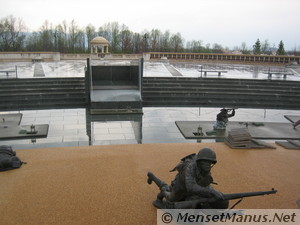 The water that flows beneath this cantilevered bridge circulates between the beach and a granite-laced landing craft, which is a stylized representation of all the vessels that delivered troops to the beaches. The bridge permits close viewing of sculptor Jim Brother's dramatic bronzes, Through the Surf and Death on Shore among them. The two-figure sculpture placed between the landing craft and you is temporarily located in its present position to represent the ground troops' movement "across the beach." When a replacement sculpture bearing the name Across the Beach is completed and installed, this one will be relocated to the raised garden beyond the OVERLORD Arch and given the allegorical name Valor, Fidelity, Sacrifice - the qualities that characterized the performance of the Allied Forces on D-Day, June 6, 1944, and which this particular sculpture so compellingly embodies.
Remembering the Fallen

The bronze necrology tablets at the National D-Day Memorial record the names of the Allied soldiers, sailors, airmen, coastguardsmen, marines, and merchant seaman who were killed on D-Day, 6 June 1944.

They shall grow not old, as we that are left grow old:
Age shall not weary them, nor the years condemn.
At the going down of the sun and in the morning,
We will remember them.


Laurence Binyon, "For the Fallen"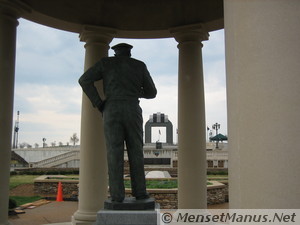 WHATEVER YOU DO, YOU NEED COURAGE.
WHATEVER COURSE YOU DECIDE UPON, THERE
IS ALWAYS SOMEONE TO TELL YOU YOU ARE
WRONG. THERE ARE ALWAYS DIFFICULTIES
ARISING WHICH TEMPT YOU TO BELIEVE
YOUR CRITICS ARE RIGHT. TO MAP OUT A
COURSE OF ACTION AND FOLLOW IT TO THE
END, REQUIRES SOME OF THE SAME COURAGE
WHICH A SOLDIER NEEDS. PEACE HAS ITS
VICTORIES, BUT IT TAKES BRAVE MEN TO WIN THEM.

_ RALPH WALDO EMERSON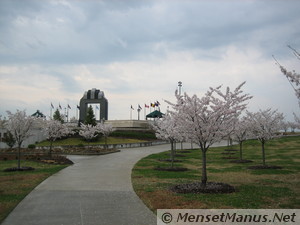 A YOUNG MAN'S PRAYER

GOD, MAKE ME A MAN _
GIVE ME THE STRENGTH TO STAND FOR RIGHT
WHEN OTHER FOLKS HAVE LEFT THE FIGHT.
GIVE ME THE COURAGE OF THE MAN
WHO KNOWS THAT IF HE WILLS HE CAN.
TEACH ME TO SEE IN EVERY FACE
THE GOOD, THE KIND, AND NOT THE BASE
MAKE ME SINCERE IN WORD AND DEED,
BLOT OUR [sic] FROM ME ALL SHAM AND GREED.
HELP ME TO GUARD MY TROUBLED SOUL
BY CONSTANT, ACTIVE, SELF-CONTROL.
CLEAN UP MY THOUGHTS, MY SPEECH, MY PLAY,
AND KEEP ME PURE FROM DAY TO DAY.
O MAKE OF ME A MAN!
A Commonplace Book for D-Day
A COMMONPLACE BOOK IS A COLLECTION OF NOTEWORTHY PASSAGES AND QUOTATIONS COPIED FROM OTHER WRITTEN
SOURCES OR RECORDED FROM MEMORY. ITS PURPOSE IS TO STIMULATE, CHASTEN, INSPIRE, ENCOURAGE, AMUSE,
STRENGTHEN, COMFORT, DELIGHT, AND UPLIFT. SERGEANT GEORGE BOWLER TULLIDGE III, WHO JUMPED INTO
NORMANDY ON 6 JUNE 1944 WITH THE 507TH PARACHUTE INFANTRY, WHICH WAS ATTACHED TO THE 82ND AIRBORNE
DIVISION, HAD SUCH A VOLUME. COMPILED BY HIS MOTHER, IT WAS A POCKET-SIZE NOTEBOOK CONTAINING SHORT
POEMS, LITERARY EXCERPTS, AND BIBLE VERSES. IN AUGUST OF 1944 SHE WROTE, "WE FELT THAT IN THE LONELY,
ANXIOUS, AND TRYING EXPERIENCES HE WAS PASSING THROUGH, A FEW MOMENTS OF READING THESE [PASSAGES]
MIGHT GIVE HIM HOPE AND STRENGTH." HERE [above] ARE SOME OF THEM:
GIVEN BY THE GARLAND AND AGNES TAYLOR GRAY FOUNDATION AND BY
MR. AND MRS. THOMAS H. TULLIDGE SR. AS A TRIBUTE TO THE ALLIED
AIRBORNE TROOPS WHO TOOK PART IN THE D-DAY ASSAULT ON 6 JUNE 1944.
---



Quote of the moment
A man who is good enough to shed his blood for his country is good enough to be given a square deal afterward. More than that no man is entitled to, and less than that no man shall have.
~ Theodore Roosevelt, Speech. Springfield (Illinois). July 4, 1903. ~

Thanks to Highland Media

[Home] [Windmill Webcam] [Vicinity Webcams] [Windpower] [Privacy] [Inspiration] [Old] [Older] [Links]

BugMeNot.com - Tell everyone you know. Because Common sense isn't.




Images stored locally for protection of your privacy (unless/until you search with Google). Stomp out web bugs (archive.org).

Copyright © 2000- hal9000[zat]mensetmanus.net (PGP public key, Message Form)

I last touched this page on Saturday, 2007-11-17 at 05:09:23 UTC.
W3C Markup Validator Check
Site optimized for any modern browser, any size screen, any resolution, and no plug-ins; prepared and served with Free BSD, Debian GNU / Linux and Ubuntu (Debian) GNU/Linux.