[Home] [Windmill Webcam] [Vicinity Webcams] [Windpower] [Privacy] [Inspiration] [Old] [Older] [Links]
BugMeNot.com - Tell everyone you know. Because Common sense isn't.
Frozen Head State Park
Frozen Head Peak
February 14, 2004
One of the first man-made things I noticed when approaching the top of Frozen Head was the large, square or rectangular, billboard-like antenna, which is pictured at left. The top is mostly cleared, but trees have grown up all around the top. Views from ground level are partly obstructed by the trees, but excellent views can be seen through the trees in most directions, at least during winter when the trees are leafless.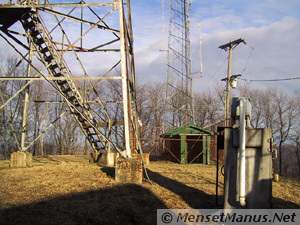 According to the official state history of the park (pdf, local copy), "In May of 1933, Governor McAllister proclaimed a large part of the prison lands as Morgan State Forest to be managed by the Forestry Division. Shortly afterwards, a Civilian Conservation Corps (CCC) camp was established on the Forest. Inasmuch as forest fires and trespass protection was of primary importance, a lookout tower was erected on Frozen Head Mountain. Fire control roads and trails were constructed, the boundaries surveyed and marked and a ranger's headquarters was built along Flat Fork Creek. The CCC camp disbanded in 1941 at the onset of W.W.II." Now, in addition to the lookout tower, also located atop the mountain are electrical equipment, communications towers and antennas.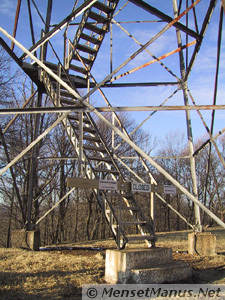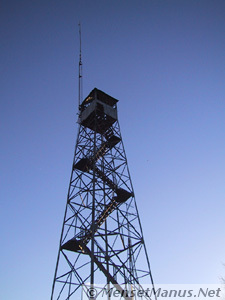 A "TEMPORARILY CLOSED NO TRESPASSING" sign blocks the stairs to the top of the 60+ year old lookout tower. Fortunately, several pictures from the top of the tower are already available from other sites, such as the Morgan County Repeater Association, who maintain the repeater at the top of the tower. Tom Dunigan's site also has one, and so does this UTK site. Granted, looking at pictures is not the same as being there; however, taking a look at the old wooden stairs, the rusty metal frame, and the height to the top of the tower should be enough to make someone think twice about climbing it just for fun.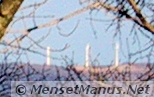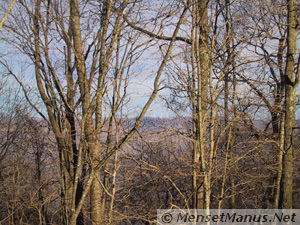 The three windmills at TVA's wind power plant on the ridge in the distance to the east were clearly visible through the leafless trees. Notably, the air was still, and the windmills appeared to be not spinning for over 3 hours straight.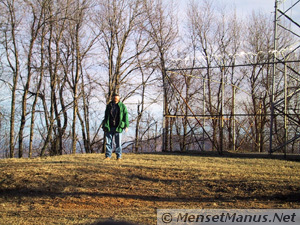 Obligatory "I was there at the top, next to the razor wire and antenna" picture.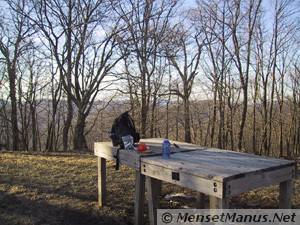 I greatly appreciated and enjoyed using the tables from Tony Shreeve's 1999 Scout Project (sign below). A fire pit and a small amount of wood were also available. The peak is a designated campsite location, but I saw no source of water other than at Tub Spring, a half mile back down the mountain.

Oak Ridger Articles:
"Troop holds court of Honor," First Class Scout, March 7, 1997
"Troop 224 treks to Mount Rogers; Court of Honor held," Star Scout, March 26, 1999
"Locks of Love," April 13, 1999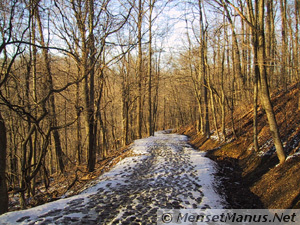 Verizon cell phone signal was good at the top; however, I had no signal (driving back) from Armes Gap to nearly Oliver Springs. After a quick call home, and a snack of fruit, candy and water, I quickly headed back down to get to my car before sunset. The shadows were getting long, and most of the hike back to Armes Gap is on the east side of the mountain, so there was no time to waste. As Troy Cheek wrote about his hike to Frozen Head, "Water and jerky tastes like fine wine and beef mignon when you're hungry enough." Similar sentiment applies to water, fruit and candy when you're tired and hungry.

Disclaimer: This is free information. Use at your own risk. This is only my opinion based on my experience. There is No guarantee of accuracy. I am Not responsible for anything that may happen to you because of using or not using this information.
---



Quote of the moment
No man can lose what he never had.
~ Izaak Walton, The Complete Angler. Part i. Chap. v. ~

Thanks to Highland Media

[Home] [Windmill Webcam] [Vicinity Webcams] [Windpower] [Privacy] [Inspiration] [Old] [Older] [Links]

BugMeNot.com - Tell everyone you know. Because Common sense isn't.




Images stored locally for protection of your privacy (unless/until you search with Google). Stomp out web bugs (archive.org).

Copyright © 2000- hal9000[zat]mensetmanus.net (PGP public key, Message Form)

I last touched this page on Friday, 2008-12-26 at 21:32:00 UTC.
W3C Markup Validator Check
Site optimized for any modern browser, any size screen, any resolution, and no plug-ins; prepared and served with Free BSD, Debian GNU / Linux and Ubuntu (Debian) GNU/Linux.