[Home] [Windmill Webcam] [Vicinity Webcams] [Windpower] [Privacy] [Inspiration] [Old] [Older] [Links]
BugMeNot.com - Tell everyone you know. Because Common sense isn't.
The Wheat Community and
George Jones Memorial Baptist Church and Cemetery
Related Link: The Wheat Community African Burial Ground
---
[ Start | History | Church | Cemetery | Monument ]
---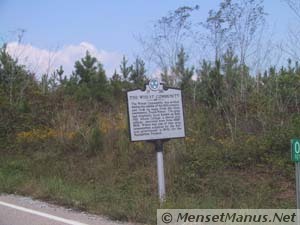 "The Wheat Community was settled during the middle of the 19th Century and took its name from the first postmaster, Frank Wheat. The area had originally been known as Bald Hill. Roane College, a liberal arts college, operated here from 1886-1908. Wheat was one of four area communities acquired by the federal government, in 1942, for the Manhattan Project."

George Jones Memorial Baptist Church and Cemetery is about a half mile down a gated gravel road from Route 327, just off the "Oak Ridge Turnpike" to the west of Oak Ridge, Tennessee. The Wheat Community Monument is about another half mile farther down the same gravel road.

In this Aerial Photo the church and cemetery are at the lower left, and the monument is near the top, center, just to the left of the highway interchange. A topographical map is also available at the same link. This Yahoo map shows the general location.

The 50th Anniversary Edition of ORNL Review had extensive articles about the history of the nearby national lab. Excerpts here from Chapter 1 include discussion of Wheat and the other communities.

LIMITED USE ROAD
Official Use and Cemetery Church
Visitation Access Only
All Vehicle Occupants Must Use Seat Belts
Access For Other Purposes Prohibited
Maximum Safe Speed Limit 15 MPH
Off Road Driving Prohibited
DRIVE SAFELY


Road Open
To Hunters On
Scouting And
Hunting Days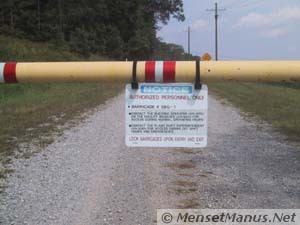 NOTICE
AUTHORIZED PERSONNEL ONLY

Barricade # SBG-1
Contact the Building Operator (576-1876) or the Facility Manager (576-8551) for Access During Normal Operating Hours.
Contact the Plant Shift Superintendent (574-3282) for Access During Off Shift Hours and Emergencies.
LOCK BARRICADES UPON ENTRY AND EXIT
---
[ Start | History | Church | Cemetery | Monument ]
---



Quote of the moment
The policy of this country is a canal under American control. The United States cannot consent to the surrender of this control to any European power.... The capital invested by corporations or citizens of other countries in such an enterprise must in a great degree look for protection to one or more of the great powers of the world. No European power can intervene for such protection without adopting measures on this continent which the United States would deem wholly inadmissible. If the protection of the United States is relied upon, The United States must exercise such control as will enable this country to protect its national interests.... An interoceanic canal across the American Isthmus ... would be the great ocean thoroughfare between our Atlantic and our Pacific shores, and virtually a part of the coastline of the United States. Our merely commercial interest in it is greater than that of all other countries, while its relations to our power and prosperity as a nation, to our means of defense, our unity, peace, and safety, are matters of paramount concern to the people of the United States.
~ Rutherford Birchard Hayes (1822–1893), U.S. president. Messages and Papers of the Presidents, vol. X, pp. 4537-4538, ed. James D. Richardson, Bureau of National Literature, 20 vols. (1897-1918), Special Message (8 March 1880).

Reacting to Ferdinand De Lesseps's dream of a Panama Canal, Hayes anticipated Theodore Roosevelt's corollary of the Monroe Doctrine. ~

Thanks to Highland Media

[Home] [Windmill Webcam] [Vicinity Webcams] [Windpower] [Privacy] [Inspiration] [Old] [Older] [Links]

BugMeNot.com - Tell everyone you know. Because Common sense isn't.




Images stored locally for protection of your privacy (unless/until you search with Google). Stomp out web bugs (archive.org).

Copyright © 2000- hal9000[zat]mensetmanus.net (PGP public key, Message Form)

I last touched this page on Saturday, 2007-11-17 at 05:08:53 UTC.
W3C Markup Validator Check
Site optimized for any modern browser, any size screen, any resolution, and no plug-ins; prepared and served with Free BSD, Debian GNU / Linux and Ubuntu (Debian) GNU/Linux.