[Home] [Windmill Webcam] [Vicinity Webcams] [Windpower] [Privacy] [Inspiration] [Old] [Older] [Links]
Common sense isn't.
Doonesbury Series From November 27 to December 3, 1995
November 27, 1995

Mike? It's Bernie! We need a web site!
We do?
Yup! We're falling behind. I want a strong web presence by next Monday, got it?
Um... sure. I'll get right on it, Bernie. Consider it done.
Beep! Beep! Beep!
Alex? It's me. What's a web site?
Oh, Daddy, I've explained it to you a zillion times!

November 28, 1995

Hank, what's a web site?
It's an Internet presence.
What's on it?
It doesn't matter. Build it and they will come.
Why do we need one?
Because the technology exists. Also, everyone else has one.
What's my motivation?
Fear. Greed. Take your pick.

November 29, 1995

Hank, how can I get a web site up and running by Monday? I've never even seen one before!
Easily remedied, my man...
We just call up our net server - like that - click on the browser, and we're in!
There are over 100,000 sites, but I've indexed some of the best on a hot list. This is my favorite page - The Demi Moore Tracking System...
The what?
It's updated every hour. Oh, wow - she just hit a waiter!

November 30, 1995

Okay, I've uploaded the home page graphics. Now what?
Now you can enter your text.
"Welcome to Bernie's Byte Shack, the hottest new site on the world wide web. We hope you'll enjoy our...
"...our..."
My God... People are already gathering! Hundreds of 'em!
They're waiting for you to finish the sentence.

December 1, 1995

Look at this, Hank - We're getting scores of visitors even while I'm building the site!
"Welcome! Here at Bernie's Byte Shack, we take great pride in our fine line of infotainment software products..."
"... all of which are available for purchase right here!"
Uh-oh...
Hey... They're all leaving!
Quick! Offer them something free!

December 2, 1995

What's this? An all-nighter? Mike, you're becoming one of us! One of the little people!
Well, Bernie said he wanted the site up and running by today.
So how's it going? What'd you upload?
Anything I could think of - product specs, release dates, promo copy. Basically I scanned in everything that was lying around the office!
Including a Chinese menu!
It was a long night. I'll clean it up tomorrow.

December 3, 1995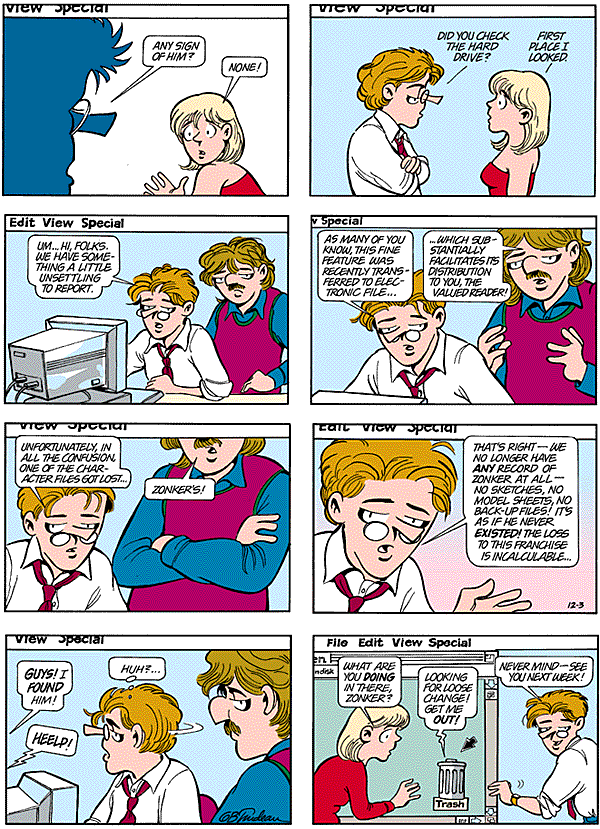 Any sign of him?
None!
Did you check the hard drive?
First place I looked.
Um... Hi, folks. We have something a little unsettling to report.
As many of you know, this fine feature was recently transferred to electronic file...
...which substantially facilitates its distribution to you, the valued reader!
Unfortunately, in all the confusion, one of the character files got lost...
Zonker's!
That's right - we no longer have any record of Zonker at all - no sketches, no model sheets, no back-up files! It's as if he never existed! The loss to this franchise is incalculable...
Guys! I found him!
Heelp!
Huh?...
What are you doing in there, Zonker?
Looking for loose change! Get me out!
Never mind - see you next week!

---


Quote of the moment
Colophon

That is its end.
Written by Senu, son of the divine father Pemu.

~ The Instruction of Amenemope, Akhim, Egypt, ~1100 BC ~

Thanks to Highland Media

[Home] [Windmill Webcam] [Vicinity Webcams] [Windpower] [Privacy] [Inspiration] [Old] [Older] [Links]

Common sense isn't.




Images stored locally for protection of your privacy (unless/until you search with Google). Stomp out web bugs (archive.org).

Copyright © 2000- hal9000[zat]mensetmanus.net

I last touched this page on Saturday, 2007-11-17 at 05:08:35 UTC.
W3C Markup Validator Check
Site optimized for any modern browser, any size screen, any resolution, and no plug-ins; prepared and served with Free BSD, and Debian GNU / Linux