[Home] [Windmill Webcam] [Vicinity Webcams] [Windpower] [Privacy] [Inspiration] [Old] [Older] [Links]
Common sense isn't.
Oak Ridge & Vicinity Web Cams
There could be more cams now. There once was a Neighborhood Windmill Web Cam page.

These Cams all belong to other sites. All credits go to the original sites for providing the images. The images here are linked to the original sites, and are brought together here for the purpose of a "panoramic view" of the area, with review and commentary. Therefore, this should be allowable "fair use." If you see it differently, let me know.

Technically, this page is an exception to the "no web bugs" rule. The original sites' logs will show requests for their images when they are viewed here; however, there is no coordinated tracking (as far as I know).

The images do not all automatically reload here, so hit Reload for this page or follow the links to the original sites to get the images to update.
---
Nothing like re-organizing every couple years...

This spot now blank


Oak Ridge A. K. Bissel Park Ampitheater (archive 2006)

More Oak Ridge City Webcams (archive 2011). And also here.
---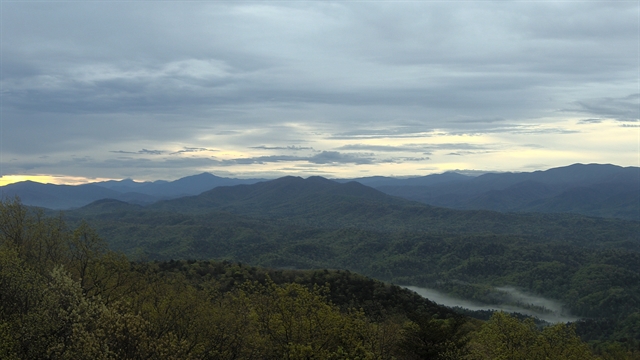 View to East from Look Rock, at the western end of Great Smoky Mountains National Park. The web site has weather and air quality (ozone). This location is pitch dark at night (and very grey in heavy fog). Why was this web cam, and associated site, down all the time years ago (12/14/01)?!
Other National Park webcams

---
Temperature cam (archive 2006). This apparently originatesd at the Claxton Building at the UTK campus in Knoxville, home of the Innovative Computing Laboratory and Netlib . It's was also linked to from Jack Dongarra's page there, so maybe it's his.

---
This spot now blank

Knoxville Public Building Authority Worlds Fair Park WebCAM (archive 2006). Link had other views. Located about here (OpenStreetMap)

---
This spot now blank

WBIR-TV's Sharp's Ridge Skycam view of Knoxville.

---
This spot now blank

Melrose Avenue from Melrose Hall at UTK (Knoxville) (archive 2006). Streaming again, after Asking for login again... after being Back streaming again, after a brief period of asking for a login...
It's was just down Melrose Ave. from the old Hess Hall Webcam (more map/view links below).
More UTK Campus Webcams (archive 2006)

---
This spot now blank
Nashville Window Webcam (archive 2003) from Midnight Cheese
Formerly the Hess Hall Webcam.
Old home page (now at archive.org) still has partial archive of cam pictures from Hess Hall at UTK (Knoxville). Click for real home page with diary and more. According to my triangulations and calculations, this cam was located right about here (OpenStreetMap) (or aerial view here).

---
This spot now blank


The UTK bookstore has had a computer store with a webcam and a list of more cams on campus. The bookstore pages seem improved gone lately. They were filled with javascript and apparently numerous pre-loading images, which nearly broke my browsers. The webcam still doesn't work for me (now requires Java?), however. The computer/bookstore at UTK is located about here, in the university center

---
This spot now blank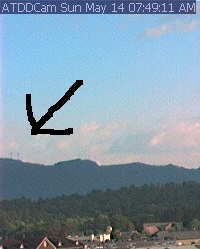 First was the closest thing to a TVA Windmill cam.
In previous years, when there were only 3 "smaller" windmills, I never saw the windmills in the cam images, although it was pointed in the right direction.
As seen in the photo excerpt from 2006-May-14, with the new improved cam, on a clear day you can could (barely) see the windmills on the distant ridge. In the live cam (below) you are were seeing the far (second) ridge on the horizon if, well, you see 2 ridges. Otherwise, on cloudier days you only see the closer local in-town ridge (or less). At night, well, there's only the lights at the mall.

Live cam image (archive 2007) was courtesy of NOAA Atmospheric Turbulence and Diffusion Division. (archive 2007) Their building and camera are roughly located about here (OpenStreetMap), and the view is about to northwest over the Oak Ridge mall area. ( aerial view)

---
Note: No longer updating here.
This spot now blank
Site now requires Java, but offers remote control, live cam. (or once did)


Was Smoky Mountain Mall cam (archive 2005) in Gatlinburg. Located about here (OpenStreetMap); or aerial view of general location (?).
Now Then at Almost Heaven Resort (archive 2005), which is a bit closer to the National Park, about here (OpenStreetMap); or aerial view.
---
This spot now blank
There once was a Web Cam (archive 2001) at ORNL's site of the SNS (archive 2001), but now then the site says said, "We are sorry but we have removed all of our webcams." Now it seems to be completely gone.
---
This spot now blank

The Anderson County Sheriff's Office Jail in Clinton, TN Aerial View) had a streaming jailcam, and an on-line tour. On 2006-11-27 the jailcam was discontinued, as explained in their announcement (retrieved 2006-11-29, or at archive).
---
This spot now blank

Salon cam (archive 2002) at Salon Byron Barker (archive 2002) in Knoxville, was located about here (OpenStreetMap), and went pay-per-view (archive 2002, and is not responding as of July 5, 2004; still not October 24, 2004).

---


Quote of the moment
He was a man, which, as Plato saith, is a very inconstant creature.
~ Plutarch, On the Tranquillity of the Mind. ~

Thanks to Highland Media

[Home] [Windmill Webcam] [Vicinity Webcams] [Windpower] [Privacy] [Inspiration] [Old] [Older] [Links]

Common sense isn't.




Images stored locally for protection of your privacy (unless/until you search with Google). Stomp out web bugs (archive.org).

Copyright © 2000- hal9000[zat]mensetmanus.net

I last touched this page on Thursday, 2022-11-17 at 17:42:52 UTC.
W3C Markup Validator Check
Site optimized for any modern browser, any size screen, any resolution, and no plug-ins; prepared and served with Free BSD, and Debian GNU / Linux