[Home] [Windmill Webcam] [Vicinity Webcams] [Windpower] [Privacy] [Inspiration] [Old] [Older] [Links]
Common sense isn't.
Children's Holocaust Memorial - Paperclip Project
Whitwell Middle School, Whitwell, Tennessee
2006 October
(Most of the text below is taken from signs at the Memorial site)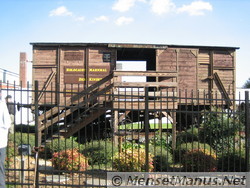 HOLOCAUST MAHNMAL

DER KINDER

Röbel/Berlin | Whitwell, Tennessee
Deutschland | USA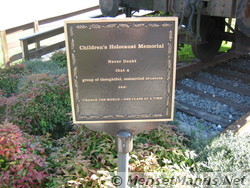 Children's Holocaust Memorial

Never Doubt

that a

group of thoughtful, committed students

can:

"CHANGE THE WORLD - ONE CLASS AT A TIME".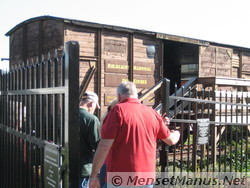 As you enter this car,

WE ASK
THAT
YOU PAUSE AND REFLECT
ON THE
EVIL
OF
INTOLERANCE AND HATRED.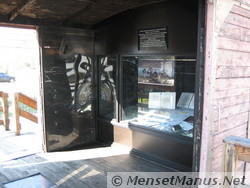 In 1998, the students, staff, and community of Whitwell Middle School
embarked on a study of the Holocaust.
These paper clips, a Norwegian symbol of resistance to the Nazi occupation,
were collected from all over the world and placed in this car
as a reminder of the tragic loss of 11,000,000 souls that occurred
during the Holocaust.
As you reflect on the horror of this tragedy,
we ask you to affirm the enduring spirit of those who survived.
With the dedication and vigilance of each person who
visits this Memorial an atrocity like this will never again occur.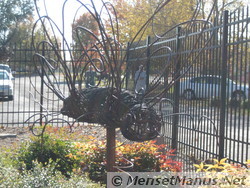 IN THIS CAR

Diesel fumes and crackling wood
Cold steel tracks and nothing good
Mid the tears and burning eyes
Slam the door - hear their cries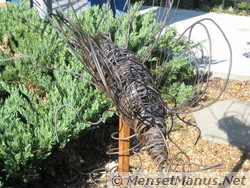 Scorching iron of the wheels
They could not speak -
There were no deals
In the shadows they all stood -
Cold steel tracks and nothing good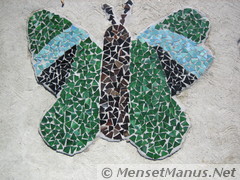 On to Auschwitz, Treblinka, and hell
So very few were left to tell
Of that time we honor today
But we thank God -
There's more to say

For as we stand - united here
We honor them with every tear
For in this car is light and love
And God's own mercy from up above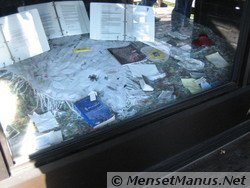 We place this monument
On hallowed ground
For all to come and stand around
And touch the place where they once stood
Open the door - there's something good!

Judge Bob Moon
October 4, 2001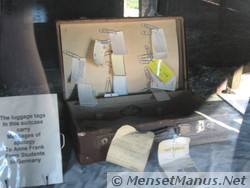 The luggage tags
in this suitcase
carry
Messages of
apology
To Anne Frank
From Students
In Germany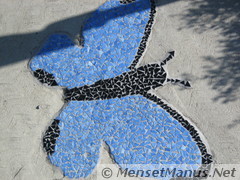 ---
Also see:

Current (2022) Home page of the memorial.

Previous (archived 2011).

Previous (archived 2007) Home page of the memorial.

Remember Clips Jewelry (archived 2011).

OpenStreetMap of approximate location

---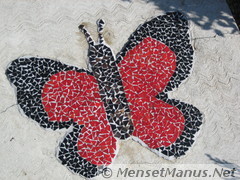 Now, as then, the face
of an innocent child is
my guiding light of
hope for the
world..the reason to
survive, to achieve
and to work for the future.
Nathan Shapell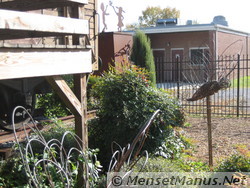 Education and
remembrance are the
only cures for hatred
and bigotry.
Miriam Oster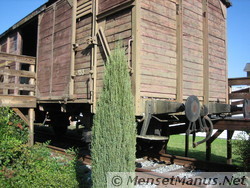 153 18T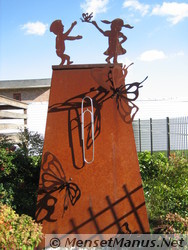 Spread knowledge,
enlightenment, and
tolerance among your
fellowman.
Emil & Eva Hecht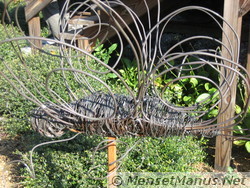 No one is an island
unto themselves.
Everything in life
affects us all.
Freddy Diament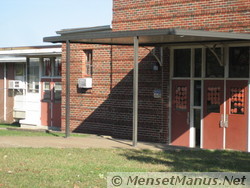 Believe in the power
of the individual to
make a difference in
this world.
Vera Federman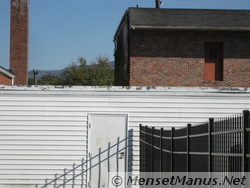 Take sides.
Neutrality helps the
oppressor, never the
victim. Silence
encourages the
tormentor, never the
tormented.
Elie Wiesel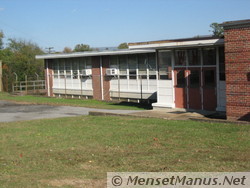 ---
11 million paperclips in the rail car, to represent or symbolize the victims of the holocaust, and another 11 million paperclips inside the metal Memorial to the Children of Terezin, is quite impressive. Still, I couldn't help wondering how much space would be required to hold 6 or 11 million bodies, since paperclips are so much smaller.
---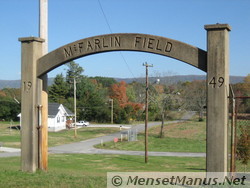 McFARLIN FIELD
19 49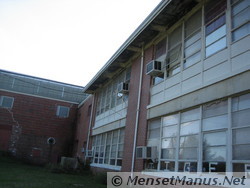 ---
Looking at the fields behind the school, I estimate an area of about 3500 feet square would hold 6 million tightly packed 2x1 feet (standing) bodies, and an area of about 4700 feet square would hold 11 million. To me, the idea of a massive crowd of such size provides another somewhat less abstract image to visualize the magnitude of such numbers of people. I think the entire school property may be about the right size. Amazing.
---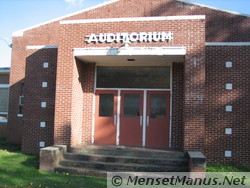 AUDITORIUM

Thanks to H for taking some of the photos above.
---


Quote of the moment
Slight not what 's near through aiming at what 's far.
~ Euripides, Rhesus. 482. ~

Thanks to Highland Media

[Home] [Windmill Webcam] [Vicinity Webcams] [Windpower] [Privacy] [Inspiration] [Old] [Older] [Links]

Common sense isn't.




Images stored locally for protection of your privacy (unless/until you search with Google). Stomp out web bugs (archive.org).

Copyright © 2000- hal9000[zat]mensetmanus.net

I last touched this page on Sunday, 2022-11-06 at 13:09:08 UTC.
W3C Markup Validator Check
Site optimized for any modern browser, any size screen, any resolution, and no plug-ins; prepared and served with Free BSD, and Debian GNU / Linux