[Home] [Windmill Webcam] [Vicinity Webcams] [Windpower] [Privacy] [Inspiration] [Old] [Older] [Links]
Common sense isn't.
TRINITY SITE
2006 October
Open House Visit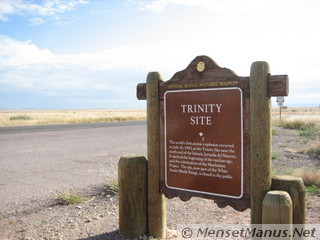 OFFICIAL SCENIC HISTORIC MARKER
TRINITY
SITE
1

"The world's first atomic explosion occurred on July 16, 1945, at the Trinity Site near the north end of the historic Jornada del Muerto. It marked the beginning of the nuclear age, and the culmination of the Manhattan Project. The site, now part of the White Sands Missile Range, is closed to the public."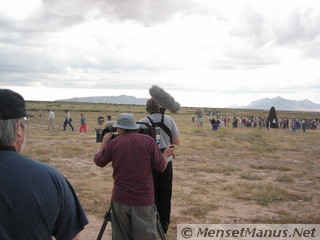 Although the site is usually closed to the public, there is a public open house on the first Saturday in April and October, in most years. A variety of displays, souvenir vendors, and food booths were near the parking area. Speeches were given at the monument at ground zero. Old photos were displayed along the fence around the site. People wandered around looking, photographing, measuring radiation, talking and thinking.

Related links:
A much more comprehensive description of a visit on the same day (very long page with many large photos).
OpenStreetMap of location.
Visit the Salmon and Sterling test site near Baxterville, Mississippi.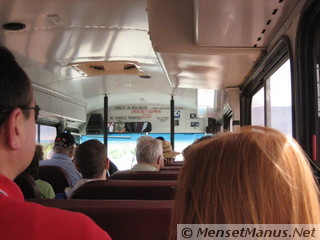 Buses are provided for rides to the McDonald Ranch House, about 2 miles away.

---


Quote of the moment
To sport with Amaryllis in the shade, Or with the tangles of Neśra's hair.
~ John Milton, Lycidas. Line 68. ~

Thanks to Highland Media

[Home] [Windmill Webcam] [Vicinity Webcams] [Windpower] [Privacy] [Inspiration] [Old] [Older] [Links]

Common sense isn't.




Images stored locally for protection of your privacy (unless/until you search with Google). Stomp out web bugs (archive.org).

Copyright © 2000- hal9000[zat]mensetmanus.net

I last touched this page on Sunday, 2022-11-06 at 15:10:35 UTC.
W3C Markup Validator Check
Site optimized for any modern browser, any size screen, any resolution, and no plug-ins; prepared and served with Free BSD, and Debian GNU / Linux