[Home] [Windmill Webcam] [Vicinity Webcams] [Windpower] [Privacy] [Inspiration] [Old] [Older] [Links]
Common sense isn't.
New Bethel Church
Interpretive
Center
March 2002
Note: Although the narrative below mentions self-guided, public tours, access to the road to ORNL is currently restricted by security checkpoints. I recommend contacting the American Museum of Science and Energy in Oak Ridge for the latest details on how to visit these areas.

Scroll right if needed to see complete panoramic image.


Five combined, Photo-stitched images from Canon PowerShot S100 Digital ELPH. The Holifield Radioactive Ion Beam Facility (now at archive, 2002) (HRIBF brief description) is seen behind the tree at left.

The following text is taken verbatim, without comment, from the sign near the church (above, right). Thanks to ORNL for this information.
Bethel Valley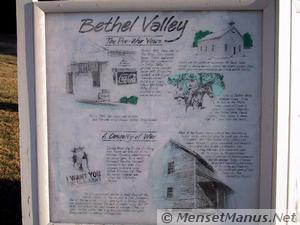 The Pre-War Years
Before 1942, there was no Oak Ridge. Farm houses, barns, fields, and woods dotted the countryside. In Bethel Valley, a general store provided people with things they couldn't make or grow. Scarboro School and a small house behind New Bethel Valley Church provided children with an education.

Church was the center of community life. People looked forward to Sunday services, revivals, and church suppers. These events gave everyone a chance to see friends and to worship.

Life in Bethel Valley changed slowly. Even as late as the 1930's, many people still rode to church in wagons. Members of New Bethel Valley Church hitched their horses to trees that still grow near the church.

But in 1942, the world was at war. And the war would change Bethel Valley forever.

A Casualty of War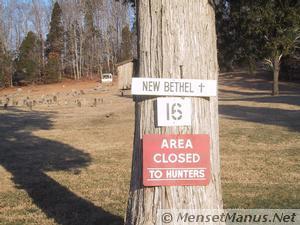 During World War II, the U.S. Army was concerned that one of its enemies, Germany, would produce an atomic bomb. As a result, President Franklin Roosevelt approved a full-scale U.S. program to build a bomb before Germany did. This top secret program was called the Manhattan Project.

The U.S. Government decided to build three of the plants needed for the project in East Tennessee. One of the facilities -- X-10 -- was built in Bethel Valley. The government claimed the land it needed in the fall of 1942 and offered the land owners an average of $45 an acre. Within weeks, the long-time residents were gone. Many settled in nearby communities.

Most of the houses, barns, schools and churches in Bethel Valley were torn down to make way for the X-10 plant. But New Bethel Valley Church was spared because it was a convenient and versatile structure close to the construction site. During the war, the church was used for meetings by the government. Later it was used to house experiments, and for storage. Today it houses an exhibit recounting the history of the valley and honoring the people who gave up their homes for the Manhattan Project.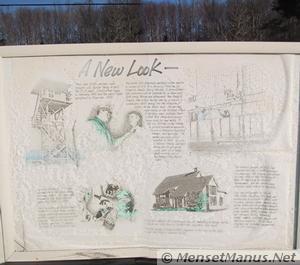 A New Look
More than 3,000 workers were brought into Bethel Valley to build the X-10 plant. Construction began in February 1943, and the plant began operations in November 1943.

The world's first continuously operated nuclear reactor is located at X-10. It is commonly known as the Graphite Reactor. During the war, it demonstrated that plutonium could be produced for an atomic bomb. Both during the war and afterwards, the Graphite Reactor was a major facility used by scientists to understand atomic energy and the structure of matter at the atomic level. The earliest experiments on the biological effects of radiation were conducted there, so that this newly found energy source could be used safely. It was also the first nuclear reactor to produce radioactive elements for use in medical and industrial research and applications. The reactor was taken out of operation in 1963. It is now a National Historic Landmark and is open for self-guided public tours. It is located about one mile west of New Bethel Valley Baptist Church.

Since World War II, X-10 has become one of the world's leading research centers. Its name was changed to Oak Ridge National Laboratory (ORNL) in 1948.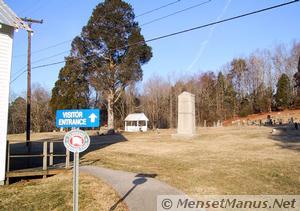 Today scientists at ORNL conduct research in many fields, including energy production and conservation, robotics, genetics, and environmental sciences. The lab has also been a leading producer of isotopes for medical and industrial uses.
The research program of ORNL has improved the lives of most Americans in many ways. Our national laboratories not only produce new technology to keep our country at the front of development, but also devise many products that each of us use daily.
Any new refrigerator is likely to have better insulation, door seals, and mechanisms as a result of ORNL work. Similarly, electric stoves benefit from better materials for heating elements. Heat pump water heaters were developed under another ORNL program. And a roof research facility is seeking better weather resistant designs with improved insulation. All of these programs are conducted cooperatively with U.S. industry.

---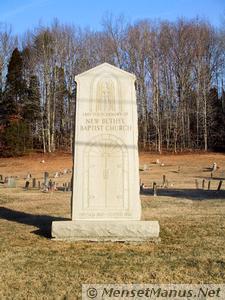 Erected In Memory Of

New Bethel

Baptist Church

Opened 1851 - Closed 1942

Church Building Stood 47 Feet In Front Of This Stone
---
Visit the overlook for a bird's-eye view of laboratory buildings and for a sound and slide show of its facilities, programs, and people.

See the display of several ORNL programs in the room on the right, inside the Graphite Reactor facility.
---
Go to: [ History ] [ Trail ] [ Overlook ]
---
Disclaimer Fine Print: This site is personal, and is independent of ORNL or any other organization. Use of the abbreviation "ORNL" and the name "Oak Ridge National Laboratory" is purely for descriptive purposes. No endorsement, no approval, and no involvement by ORNL is implied.
---


Quote of the moment
No man ever wetted clay and then left it, as if there would be bricks by chance and fortune.
~ Plutarch, Of Fortune. ~

Thanks to Highland Media

[Home] [Windmill Webcam] [Vicinity Webcams] [Windpower] [Privacy] [Inspiration] [Old] [Older] [Links]

Common sense isn't.




Images stored locally for protection of your privacy (unless/until you search with Google). Stomp out web bugs (archive.org).

Copyright © 2000- hal9000[zat]mensetmanus.net

I last touched this page on Monday, 2022-11-07 at 16:25:17 UTC.
W3C Markup Validator Check
Site optimized for any modern browser, any size screen, any resolution, and no plug-ins; prepared and served with Free BSD, and Debian GNU / Linux