[Home] [Windmill Webcam] [Vicinity Webcams] [Windpower] [Privacy] [Inspiration] [Old] [Older] [Links]
Common sense isn't.
Armes Gap to Prison Coal Mines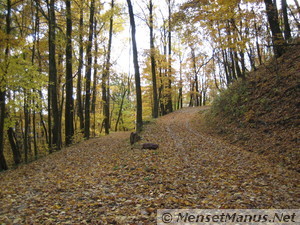 The Road Not Taken
by Robert Frost (1874–1963).
Mountain Interval. 1920.

TWO roads diverged in a yellow wood,
And sorry I could not travel both
And be one traveler, long I stood
And looked down one as far as I could
To where it bent in the undergrowth;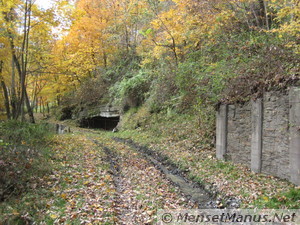 Then took the other, as just as fair,
And having perhaps the better claim,
Because it was grassy and wanted wear;
Though as for that the passing there
Had worn them really about the same,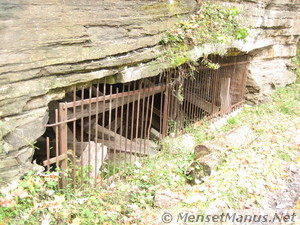 And both that morning equally lay
In leaves no step had trodden black.
Oh, I kept the first for another day!
Yet knowing how way leads on to way,
I doubted if I should ever come back.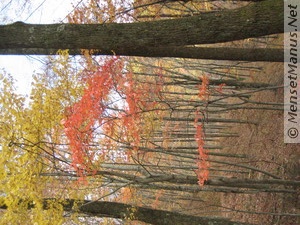 I shall be telling this with a sigh
Somewhere ages and ages hence:
Two roads diverged in a wood, and I—
I took the one less traveled by,
And that has made all the difference.

---
This is a short hike on a gated dirt road, from Armes Gap on Route 116, to the old prison coal mines above Brushy Mountain Prison (or State Correctional Facility, or Penitentiary). Although not listed as an official camp site on the (1993) Frozen Head State Park trail map, at the end of the road there are places suitable for tent camping. A camp fire site, a stack of wood, and two or three water streams (quality uncertain, boil and/or filter before drinking) were nearby. The walk ascends somewhat steeply at the beginning, descends slightly, and then finishes mostly level.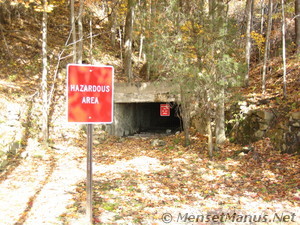 The route follows a well cleared and maintained road. At the fork pictured above, take the left fork. The right fork ascends to the Frozen Head tower.

The second mine entrance, at the end of the road, is pictured at left. The first mine entrance (photo above), has many fallen wooden timbers and a collapsed ceiling.


---


Quote of the moment
Most people would rather die than think: many do.
~ Bertrand Russell ~

Thanks to Highland Media

[Home] [Windmill Webcam] [Vicinity Webcams] [Windpower] [Privacy] [Inspiration] [Old] [Older] [Links]

Common sense isn't.




Images stored locally for protection of your privacy (unless/until you search with Google). Stomp out web bugs (archive.org).

Copyright © 2000- hal9000[zat]mensetmanus.net

I last touched this page on Monday, 2022-11-07 at 02:31:55 UTC.
W3C Markup Validator Check
Site optimized for any modern browser, any size screen, any resolution, and no plug-ins; prepared and served with Free BSD, and Debian GNU / Linux