[Home] [Windmill Webcam] [Vicinity Webcams] [Windpower] [Privacy] [Inspiration] [Old] [Older] [Links]
Common sense isn't.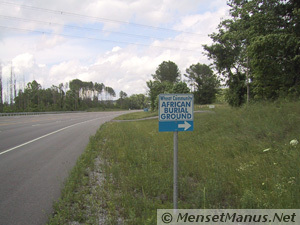 Wheat Community African Burial Ground
May 31, 2004
Related Link: The Wheat Community and George Jones Memorial Baptist Church and Cemetery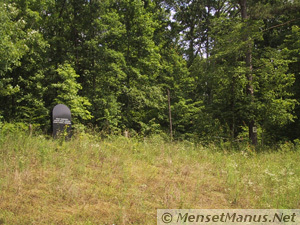 Location: In this OpenStreetMap approximate location at the east side of Oak Ridge Highway where it goes North-South, just to the south of the power line that goes East-West.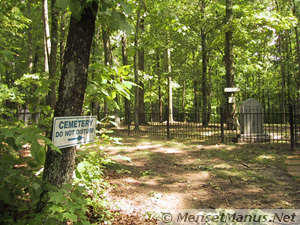 CEMETERY
DO NOT DISTURB
======>
Text From Monument:
Wheat Community
John Henry and Elizabeth Inman Welcker owned and operated a plantation named Laurel Banks as early as 1810 and possibly 1805. This plantation was located along the banks of the Clinch River where the East Tennessee Technology Park (formerly the K-25) Plant now stands. John Henry died in 1838 and Elizabeth died in 1840. In 1847 John Hamilton Gallaher Sr. bought Laurel Banks. According to the 1860 Roane County Census, George Gallaher, Sr.'s estate was valued at $36,000. This included $25,000 worth of land and at least 19 slaves. This cemetery, now named the Wheat Community African American Burial Ground, was formerly known as Atomic Energy Commission Cemetery #2 - Slave Cemetery, and was sometimes referred to as the Gallaher - Stone cemetery. In 1979, Dorothy Moneymaker, a resident of the Wheat Community, counted between 90 and 100 graves with no inscribed markers located within the cemetery. It is presumed that slaves who once belonged to the Welckers and Gallahers and some their descendents are buried here. It is also possible that slaves and their descendents who lived on other farms in the area are buried here. Some of the other families that owned slaves and lived in the vicinity were the Burums, Carmichaels, Staples, Henleys, Ellis, and Rathers. We will never know the names of those buried here.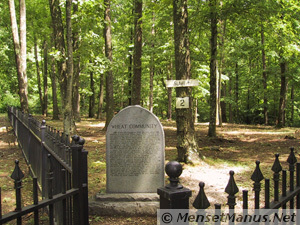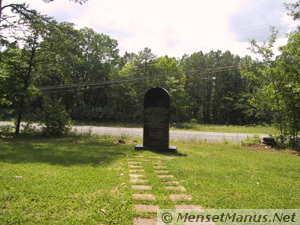 Text From Monument:
WHEAT COMMUNITY AFRICAN BURIAL GROUND
ROANE COUNTY, TENNESSEE

---
THIS CEMETERY AND MEMORIAL
IS DEDICATED TO THE MEMORY
OF THESE AFRICANS
WHO WERE IN AMERICA
IN BONDAGE,
RATHER THAN BY CHOICE
AND LIVED, WORKED AND DIED
IN BONDAGE IN
THE WHEAT COMMUNITY

---
When I [can] Read My Title Clear
To Mansions In The Skies,
I'll Bid Farewell To Every Fear,
And Wipe My Weeping Eyes.
Isaac Watts (1674–1748) (now at archive, 2004)

MAY 26, 2000

ATTRIBUTION: Hymns and Spiritual Songs. Book ii. Hymn 65 (now at archive, 2004).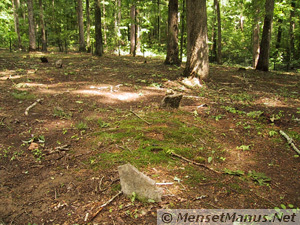 Related Links
ORNL employees visit burial ground REASON: The visit was just one of many events the lab has conducted as part of Black History Month. (OakRidger , February 26, 2004 now at archive, 2004)

Minter gives history of slavery in this area (OakRidger, January 21, 2003 now at archive, 2004)

Memorial dedication at former slave burial ground (OakRidger, May 22, 2000 now at archive, 2000)

Wheat Community African Burial Ground To Be Dedicated Monument to Memorialize Region's Early African-Americans (DOE Press Release, May 9, 2000, now at archive, 2001)

Things to See and Do (now at archive, 2005)

AEC #2 - Slave Cemetery (now at archive, 2001)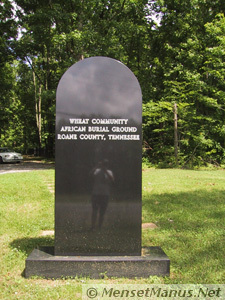 WHEAT COMMUNITY
AFRICAN BURIAL GROUND
ROANE COUNTY, TENNESSEE


Related Link: The Wheat Community and George Jones Memorial Baptist Church and Cemetery
---


Quote of the moment
Time is bunk.
~ Hitchhikers Guide to the Galaxy ~

Thanks to Highland Media

[Home] [Windmill Webcam] [Vicinity Webcams] [Windpower] [Privacy] [Inspiration] [Old] [Older] [Links]

Common sense isn't.




Images stored locally for protection of your privacy (unless/until you search with Google). Stomp out web bugs (archive.org).

Copyright © 2000- hal9000[zat]mensetmanus.net

I last touched this page on Sunday, 2022-11-06 at 21:58:31 UTC.
W3C Markup Validator Check
Site optimized for any modern browser, any size screen, any resolution, and no plug-ins; prepared and served with Free BSD, and Debian GNU / Linux