[Home] [Windmill Webcam] [Vicinity Webcams] [Windpower] [Privacy] [Inspiration] [Old] [Older] [Links]
Common sense isn't.
Wheat Community Monument
Related Link: The Wheat Community African Burial Ground
---
[ Start | History | Church | Cemetery | Monument ]
---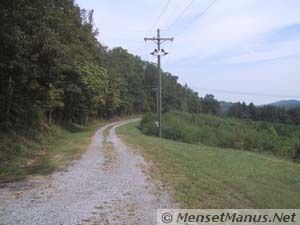 Continuing from the church driveway, the road descends slightly on the way to the Wheat Community Monument, which is about a half mile away.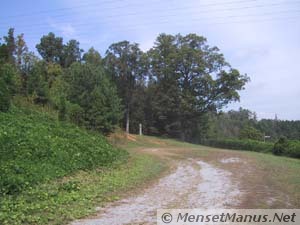 Around the corner, past the kudzu and high voltage transmission lines, the monument comes into view at the end of the road.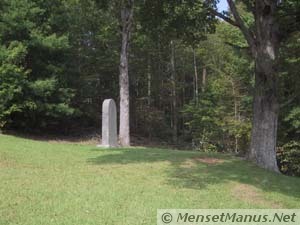 The monument stands in a grassy clearing next to woods on one side and power lines on the other side.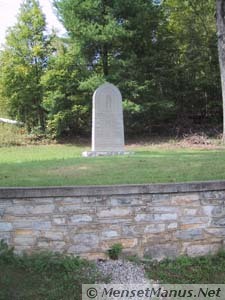 There is a nice rock wall along the front of the clearing. The wall is about three feet high, and the monument stands about seven feet tall.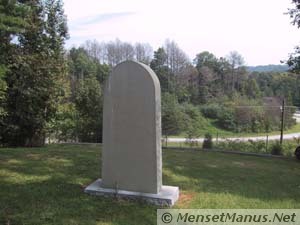 From behind the monument - The site overlooks a highway interchange at the intersection of Highway 58 and Highway 95. A chain link fence stands between the monument site and the road.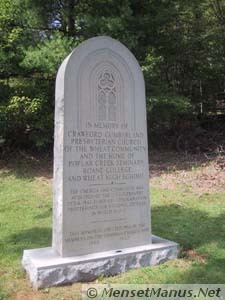 IN MEMORY OF
CRAWFORD CUMBERLAND
PRESBYTERIAN CHURCH
OF THE WHEAT COMMUNITY
AND THE HOME OF
POPLAR CREEK SEMINARY
ROANE COLLEGE
AND WHEAT HIGH SCHOOL


THE CHURCH AND COMMUNITY WAS
ACQUIRED BY THE U.S. GOVERNMENT
OCT. 6, 1942 THROUGH CONDEMNATION
PROCEEDINGS FOR NATIONAL DEFENSE
IN WORLD WAR II


THIS MEMORIAL ERECTED 1950 BY THE
MEMBERS ON THE ORIGINAL CHURCH SITE
1900 1942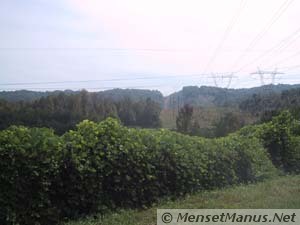 View towards the southeast over the kudzu covered fence, along the high voltage power transmission lines.

Related Link: The Wheat Community African Burial Ground
---
[ Start | History | Church | Cemetery | Monument ]
---


Quote of the moment
Peace is of little value to someone who is dying of hunger or cold. It will not remove the pain of torture inflicted on a prisoner of conscience. It does not comfort those who have lost their loved ones in floods caused by senseless deforestation in a neighboring country.

Peace can only last where human rights are respected, where the people are fed, and where individuals and nations are free. True peace with ourselves and with the world around us can only be achieved through the development of mental peace.

~ The Path to Tranquility, July 1, 14th Dalai Lama ~

Thanks to Highland Media

[Home] [Windmill Webcam] [Vicinity Webcams] [Windpower] [Privacy] [Inspiration] [Old] [Older] [Links]

Common sense isn't.




Images stored locally for protection of your privacy (unless/until you search with Google). Stomp out web bugs (archive.org).

Copyright © 2000- hal9000[zat]mensetmanus.net

I last touched this page on Saturday, 2007-11-17 at 05:08:54 UTC.
W3C Markup Validator Check
Site optimized for any modern browser, any size screen, any resolution, and no plug-ins; prepared and served with Free BSD, and Debian GNU / Linux