[Home] [Windpower Home Page] [Regenesys Dangers] [Directions] [Troubles Nearby] [Dirty] [FOIA] [Ground Zero] [Tour] [Friendly?] [Spinnin'] [Bottom Line - Performance] [Power Calculator] [Basis] [Storage] [Assembly] [Construction] [18 Operating] [Area History] [California Dreamin'] [Texas]
Common sense isn't.
Leach Cemetery Miners' Circle Monument
1902 Fraterville Mine Disaster (Tennessee, USA)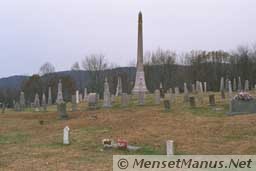 Credit goes to the Coal Creek Watershed Foundation's web page describing the Coal Creek Motor Discovery Trail for providing a suggested tour route and information about the area.
More pictures and information can be found at Carl Fritts' web pages about the Leach Cemetery and the Fraterville mine disaster. Also, Bonnie Phillips is collecting pictures, names and dates from Leach cemetery, as well as from many others in the area.
The location is shown in this aerial view from Terraserver (faint circle at right), and in this map from maps.yahoo.com.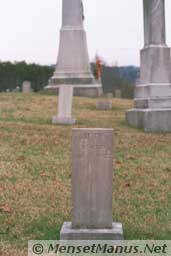 It makes a stunning impression to see the same date, May 19, 1902, over and over, on every headstone in the circular pattern surrouding the central monument.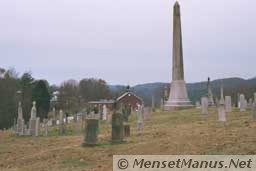 The photo at right looks back towards the church.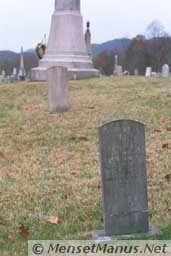 This headstone shows an example of the repairs that have been done to improve the condition of the monuments.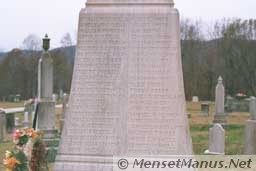 The base of the central monument is engraved with the names of the many miners who died in the tragic accident.

---


Quote of the moment
Old age is always wakeful; as if, the longer linked with life, the less man has to do with aught that looks like death.
~ Herman Melville (1819–1891), U.S. author. Moby-Dick (1851), ch. 29, The Writings of Herman Melville, vol. 6, eds. Harrison Hayford, Hershel Parker, and G. Thomas Tanselle (1988). ~

Thanks to Highland Media

[Home] [Windpower Home Page] [Regenesys Dangers] [Directions] [Troubles Nearby] [Dirty] [FOIA] [Ground Zero] [Tour] [Friendly?] [Spinnin'] [Bottom Line - Performance] [Power Calculator] [Basis] [Storage] [Assembly] [Construction] [18 Operating] [Area History] [California Dreamin'] [Texas]

Common sense isn't.

Images stored locally for protection of your privacy (unless/until you search with Google).

Disclaimer Fine Print: This site is personal, and is independent of TVA or any other organization. Use of the abbreviation "TVA" is purely for descriptive purposes (for example, to distinguish from wind power plants on Buffalo Ridge in Minnesota). No endorsement, no approval, and no involvement by TVA is implied.

Copyright © 2000- hal9000[zat]mensetmanus.net
I last touched this page on Saturday, 2007-11-17 at 05:08:57 UTC.


W3C Markup Validator Check
Site optimized for any modern browser, any size screen, any resolution, and no plug-ins; prepared and served with Free BSD, and Debian GNU / Linux