Building Time at Brushy (Amazon), by Stonney Ray Lane, 2003.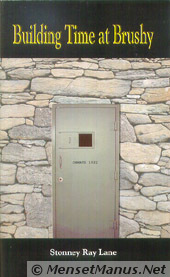 The author was the warden of Brushy Mountain State Penitentiary when James Earl Ray escaped in 1977, and he tells the story of Ray's escape and capture, as well as the story of the author's life growing up and living in rural Kentucky and Tennessee. The autobiography covers Stonney Ray Lane's life, from birth in 1937 in Kentucky, through his retirement from prisons (and return to schools) in about 1979. Approximately the middle third of the book covers James Earl Ray's escape, capture, and subsequent trial.

I enjoyed reading the book, and I recommend it, not only for the history involving James Earl Ray, but also for the insights into life and violence in prisons, education inside and outside of prisons, life and violence in coal country, and for the descriptions of some local sites around Knoxville, Tennessee. How could one not like a book that adds favorably to the legend of places like Big Ed's Pizza Parlor (archive, 2003) in Oak Ridge, Tennessee?

The book has a few rough edges. It has very little apparent structure or organization. Although the story-telling is easy enough to read, there are only four separate sections in the book, and only three sections are titled. For someone who is primarily interested in the portions about Ray's escape, it may seem to take a long time to get to that part. The book also has no table of contents, and no index. The bulk of the book is in one very long, unbroken, autobiographical narrative (271 pages in the paperback). This lack of structure makes it somewhat difficult to stay with the book at times. I noted a few typos, including "English" spelled as "Egnlish" in the Foreward, ironically in the section where Lane describes how he copied and cheated his way through college English.

The book contains some confusion, which disturbed me at first, regarding whether it is actually non-fiction. After seeing the author describe the book as a true story in an interview on a local cable access channel (archive, 2003), I was surprised to see the following disclaimer at the top of the copyright page at the front of the book:
"This book is a work of fiction. Places, events, and situations in this book are purely fictional. Any resemblance to actual persons, living or dead, is coincidental."
In the paperback book released in 2003, at the end of the first section called "Foreward - Biographical Sketch of Stonney Lane," the following statement clearly contradicts the disclaimer:
"The publishers have classified this book as "fiction" because I had to change some of the names of the inmates. But this story is the truth as I remember it. It is not a made up story; it really happened, as strange as it may seem. It is humbly dedicated to my children Lisa, Dusty, and Lori."
The publisher, [which was] 1stBooks.com [once upon a time] provides an online copy of the Foreward and a "Free Preview," which amounts to the entire contents of the first 21 pages of the paperback, excluding the title and copyright pages. The online version is dated 2000, and does not contain the statements mentioned above. [On July 17, 2005 the Preview was available here (archive, 2005).]

There are a few surprises in the book. Lane says as a teenager he "had a few brushes with the law, a few automobile accidents," and he was sent by his mother to boarding school "for troubled kids from broken homes." He admits to cheating and copying to get through college English. Yet, he became a teacher at Coalfield school (archive, 2003), was a teacher and counselor at Brushy Mountain Prison, and eventually became a principal at Wartburg Central High School (archive, 2003). He says it is only "a thin line that separates a free man from one behind bars," and basically says "if it were not for getting the right break here and there, who knows?" he could have ended up on the other side of those bars. Later, he acknowledges that by working at the prison, he was also "building time" similar to the prisoners.

Lane also wrote some surprising things about whether James Earl Ray was involved in a conspiracy to assassinate Martin Luther King, based on Lane's personal discussion with Ray. I don't want to spoil the story, so I won't say any more about that.

The book concludes with two short sections:

Ray Tucker's James Earl Ray Escape Story, and
Ray's story about "Nub"
Although the last section of the book only includes a short, two page description of Nub, and does not mention Nub's death, it does include the following statement, "As I said before, Nub Haynes was one of the most special people that you'll ever meet anywhere." It almost seems as though the book is being partly dedicated to Nub, and if the following obituary found online is accurate, this is understandable.



HAYNES, CHESTER A., --Chester A. (Nub) Haynes, 57, Petros, for three years recreational director at Brushy Mountain State Prison in Petros, died of a heart attack early Sunday morning while visiting the home of Warden Stonney Lane in Petros. Family members said Haynes and Lane were watching television when he was stricken. He was dead on arrival at Oak Ridge Hospital. Haynes was a director of Highland Telephone Cooperative in Sunbright and served 20 years as a bookkeeper for the Morgan County Road Department. His wife, the former Joan Armes, is a teacher at Petros-Joyner School. Besides his wife he leaves a foster son, Doyle Haynes of Petros; parents, Rev. and Mrs. J. E. Haynes of Crossville; five sisters: Mrs. Faye Hickman of Greenbelt, Md., Mrs. Vivian Gouge [Gooch] of Minot, N.D.; Mrs. Sue Scott of Pilot Mountain; Mrs. Pearl Cecil of Robbins and Mrs. Devonia Burns of Kingston; three brothers: Everett of Lancing, Dwight of Nashville and Lawson of Wartburg. Funeral services were held Wednesday at 2:30 from Schubert Funeral Home Chapel, Wartburg, with the Rev. Edwin Phillips officiating. Burial followed in Petros cemetery, with Schuberts of Wartburg in charge of arrangements. Serving as pallbearers were Ray Rucker, Stonney Lane, Jimmy Daugherty, Baxter Trail, Roy Liles and Billy Hobbs. (Morgan County News, 12/23/1978, p7). [

Source

(archive, 2003)]

HAYNES, CHESTER A.—-Chester A. (Nub) Haynes, 57, Petros, (Morgan County News, 12/23/1978, p7). [

Source

(archive, 2002) ]


The book is available in hardback, paperback, or PDF download. The Books a Million (archive, 2004) "Club" had the best price I could find for the paperback.

Related Links:

Oak Ridger Newspaper
1998 Guest Column on Ray's Escape (archive, 2004)
1998 Smyser Opinion Article (archive, 2004), which includes a picture of Ray and Stonney Lane (archive, 2003)
Picture of Stonney Lane on list of past principals of Wartburg Central High School (archive, 2003)
Stonney Lane organized a Brushy Mountain (archive, 2004) Penitentiary employees reunion in 2001.
Tennessee State Governor Bredesen recently announced a new Prison will be built in Morgan County, and Brushy Mountain Prison will be closed (archive, 2003).
Brushy Mountain Prison has a museum with confiscated contraband on display.
Knox News
The book was briefly mentioned at the end of Sam Venable's October 17, 2003 column.


Night Comes to the Cumberlands : A Biography of a Depressed Area (Amazon) by Harry M. Caudill (archive, 2003) (see also this homepage (archive, 2003) and this (archive, 2001) [or local copy]). This book is referenced in Bell's Circling Windrock Mountain (above). Taking a quote from the book, it could well have been subtitled: From 'Root Hog or Die' to 'Can You Spare a Dollar, Please.' Although it traces the history primarily of the Eastern Kentucky Cumberland Plateau area, there are probably some similarities with the character of life in similar mountain country in parts of West Virginia, Virginia, and Tennessee. While it describes the history from the time of the first non-native settlers until about 1963, the book is essentially a plea for outside help for the area. The author suggests the formation of a Southern Mountain Authority to be much like the Tennessee Valley Authority. He states "The T.V.A. demonstrated the means by which many of the world's trouble spots can be rescued. It's example now offers solid assurance that, for low direct cost to the taxpayers, America can successfully attack the ills of the Southern highlands in a campaign that will eventually benefit every one of the fifty states." He does not let TVA off without criticism, though, because he blames TVA for much of the motivations that lead to increased strip mining rather than deep mining. He claims that in 1953 TVA began changing from a "benevolent government agency whose masters gave every evidence of a wise dedication to public service" into "a mammoth corporation which subordinated all other considerations to low costs and balanced budgets."

Other than the concluding plea for help, the book is depressing, and offers little hope. It traces the history from fiercely independent settlers, through company coal towns, to a severely depressed welfare state with poor schools, which threaten to perpetuate the problems indefinitely. Despite the depressing aspects, the history is well written and interesting.

In predicting the continued decline of the coal industry, the author does reasonably well, but does not foresee the formation of an organization like OPEC, and he makes an interesting, perhaps over-confident comment about nuclear power. He says, "The growing petroleum glut and the network of natural gas pipelines lessen coal's importance with each passing season. Within a few years tireless atomic reactors will provide much of the electric power now made from coal."