[Home] [Windpower Home Page] [Regenesys Dangers] [Directions] [Troubles Nearby] [Dirty] [FOIA] [Ground Zero] [Tour] [Friendly?] [Spinnin'] [Bottom Line - Performance] [Power Calculator] [Basis] [Storage] [Assembly] [Construction] [18 Operating] [Area History] [California Dreamin'] [Texas]
Common sense isn't.
18 Vestas Windmills (Wind Turbines) at Buffalo Mountain
2006 April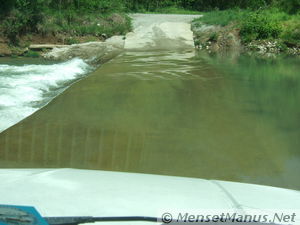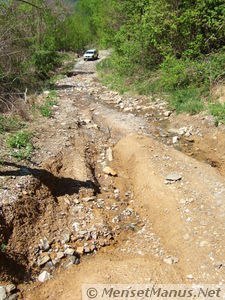 The following photos are from a visit to the wind power plant several days after Earth Day 2006 and just after the 20th anniversary of the Chernobyl nuclear power plant disaster.

We first tried going the longer, back way from the north, but eventually turned back.

After several days of rain, the water was over the bridge as deep as I've seen.

The gravel road was settling, and water was running down the road. After a brief attempt with some slipping and skidding, we decided to go back and try the shorter, steeper route.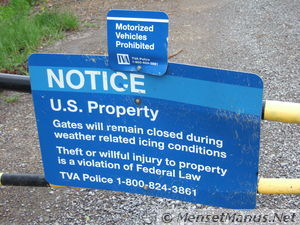 Motorized
Vehicles
Prohibited
TVA Police
1-800-824-3861
NOTICE
U.S. Property
Gates will remain closed during
weather related icing conditions
Theft or willful injury to property
is a violation of Federal Law
TVA Police 1-800-824-3861

---
Thanks to
Dr. E
(archive 2006) for the 3 photos above and the final photo below.
---
Two new 1.8 MW wind turbines are now seen before reaching the 3 original 660 kW turbines.

Information in website logs and blogs led to this trip to the wind power plant site. Website access logs and statistics can have much information, or mis-information. With widely available browsing tools such as Tor to change IP addresses, RefControl (archive 2007. Mozilla re-organizes a lot, so enjoy the forwarding ride, or click here to jump.) to change Referers, and User Agent Switcher (archive 2006) to change browser user-agent (browser, computer and operating system description), people who write blogs can disguise who they are or provide inaccurate contact information. In this case, however, the information in logs and blogs led to an interesting and enjoyable visit to the plant site.

In this website's logs I saw some requests from a link in a Japanese blog (archive 2006). Through the wonder of online translators , the blog told about 2 unsuccessful attempts to visit the power plant site. Since I enjoy visiting the plant site, and hadn't been there since the expansion construction phase, I sent an offer to take the blog writer and family on a tour. One thing led to another, and eventually we went on this trip, and saw the expanded plant site with 18 Vestas wind turbines.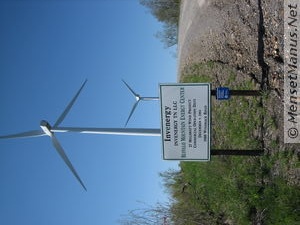 Invenergy
INVENERGY TN LLC
BUFFALO MOUNTAIN ENERGY CENTER
27 MEGAWATT WIND PROJECT
COMMERCIAL OPERATION DATE
DECEMBER 9, 2004
1980 WINDROCK ROAD

TVA
Motorized
Vehicles
Prohibited
TVA Police
1-800-824-3861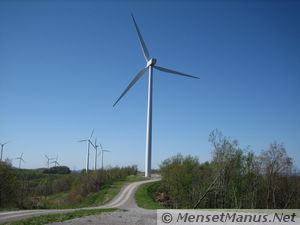 15
DANGER
HIGH
VOLTAGE

NOTICE
AUTHORIZED
PERSONNEL
ONLY

DANGER
HIGH
VOLTAGE



Newer turbine appears to tower over original three turbines.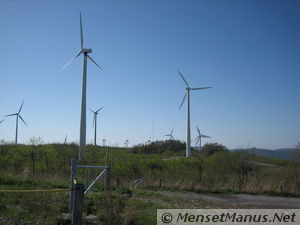 Two of three original 660 kW turbines in foreground, with several newer 1800 kW turbines in background.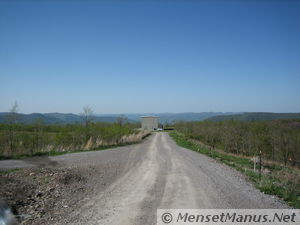 Fence along edge of site, and a maintenance building at the end.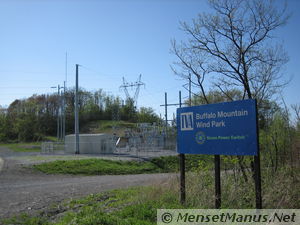 New electric substation near the old "wind park" sign.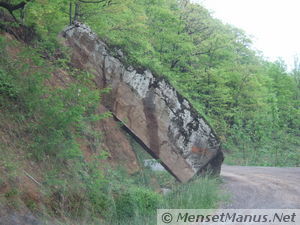 Huge boulder slid down to road.



Related Links:

In Oak Ridge before transport to power plant site, nacelle assembly site off Bethel Valley Road, and blade and tower storage site along railroad tracks.

SACE has had a collection of photos showing transport and construction (archive 2007) of the new wind turbines, from July and August 2004.





---


Quote of the moment
Geography is a preliminary, in all cases, to a pleasing and instructive course of historical readings.
~ Letter to B. Chapman, January 25, 1821 (James Madison, 1865, III, pages 204-205) ~

Thanks to Highland Media

[Home] [Windpower Home Page] [Regenesys Dangers] [Directions] [Troubles Nearby] [Dirty] [FOIA] [Ground Zero] [Tour] [Friendly?] [Spinnin'] [Bottom Line - Performance] [Power Calculator] [Basis] [Storage] [Assembly] [Construction] [18 Operating] [Area History] [California Dreamin'] [Texas]

Common sense isn't.

Images stored locally for protection of your privacy (unless/until you search with Google).

Disclaimer Fine Print: This site is personal, and is independent of TVA or any other organization. Use of the abbreviation "TVA" is purely for descriptive purposes (for example, to distinguish from wind power plants on Buffalo Ridge in Minnesota). No endorsement, no approval, and no involvement by TVA is implied.

Copyright © 2000- hal9000[zat]mensetmanus.net
I last touched this page on Tuesday, 2022-11-15 at 11:04:37 UTC.


W3C Markup Validator Check
Site optimized for any modern browser, any size screen, any resolution, and no plug-ins; prepared and served with Free BSD, and Debian GNU / Linux