[Home] [Windpower Home Page] [Regenesys Dangers] [Directions] [Troubles Nearby] [Dirty] [FOIA] [Ground Zero] [Tour] [Friendly?] [Spinnin'] [Bottom Line - Performance] [Power Calculator] [Basis] [Storage] [Assembly] [Construction] [18 Operating] [Area History] [California Dreamin'] [Texas]
Common sense isn't.
15 More Windmills (Wind Turbines) for Buffalo Mountain
2004 July
Rough Draft 2006-05-11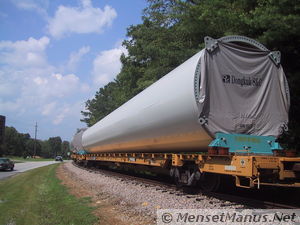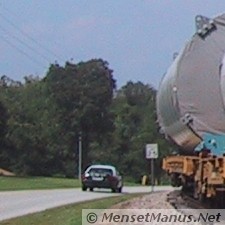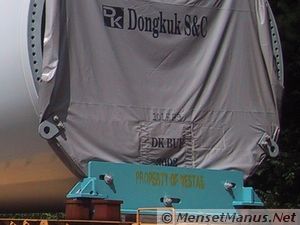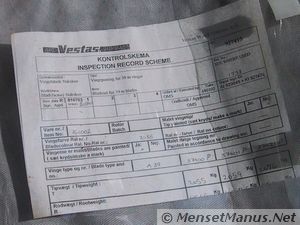 DK Dongkuk (archive 2005) S&C

DK BUF

3002

PROPERTY OF VESTAS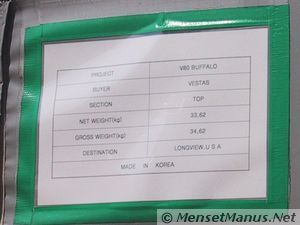 PROJECT
V80 BUFFALO
BUYER
VESTAS
SECTION
TOP
NET WEIGHT(kg)
33,62
GROSS WEIGHT(kg)
34,62
DESTINATION
LONGVIEW, U S A
MADE IN KOREA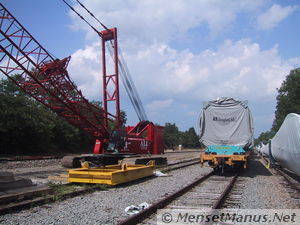 In an April 2006 newsletter, Vestas had an interesting article (650 KB PDF excerpt) about transporting wind turbines from their factory to project sites.

In a Winter 2004 newsletter, The Port of Longview, Washington had a related article (130 KB PDF excerpt) about transporting wind turbine components by ship and rail.

There was another similar article (390 KB PDF) in the March 2006 edition of North American Windpower (archive 2006).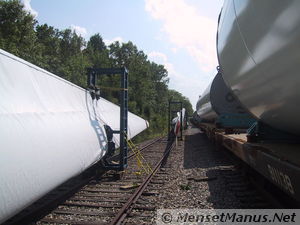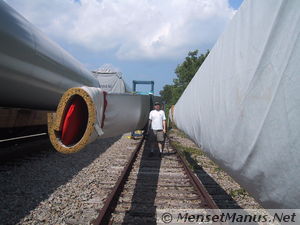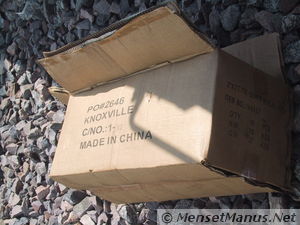 PO#2646
KNOXVILLE
C/NO.: 1-92
MADE IN CHINA

2"x27' TIE-DOWN W/FLAT HOOK
ITEM NO.: 144027
Q'TY: 10 PCS
N.W: 26 KGS
G.W: 27 KGS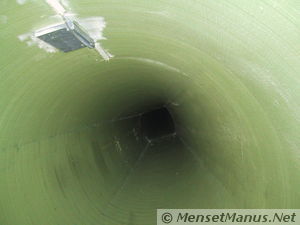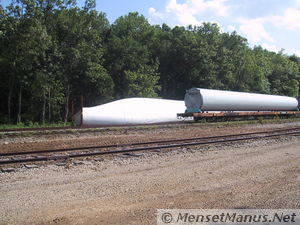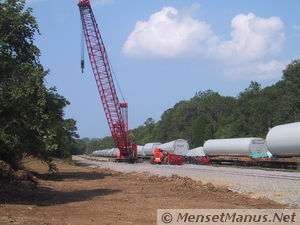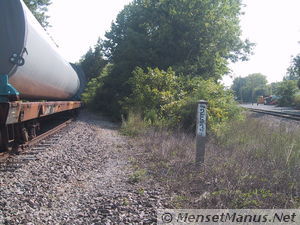 AEC
2
5
3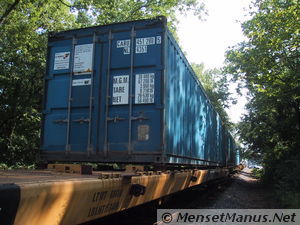 ---

Related Links:

SACE has had a collection of photos showing transport and construction (archive 2007) of the new wind turbines, from July and August 2004.




---


Quote of the moment
You need not be proud of me.... I'm only being active till you can be again—it isn't such a great desire on my part to serve the world and I'll fall back into habits of sloth quite easily!
~ Eleanor Roosevelt (1884–1962), U.S. First Lady, author, and speaker. As quoted in Eleanor and Franklin, ch. 28, by Joseph P. Lash (1971).

In a letter to her husband, the future president Franklin Delano Roosevelt, dated February 5, 1924. She had become active politically while he recovered from polio and was forced to abandon political work. This letter was an attempt to reassure and console him. In fact, Roosevelt maintained and broadened her independent political activity (speaking, writing, etc.) throughout her life. ~

Thanks to Highland Media

[Home] [Windpower Home Page] [Regenesys Dangers] [Directions] [Troubles Nearby] [Dirty] [FOIA] [Ground Zero] [Tour] [Friendly?] [Spinnin'] [Bottom Line - Performance] [Power Calculator] [Basis] [Storage] [Assembly] [Construction] [18 Operating] [Area History] [California Dreamin'] [Texas]

Common sense isn't.

Images stored locally for protection of your privacy (unless/until you search with Google).

Disclaimer Fine Print: This site is personal, and is independent of TVA or any other organization. Use of the abbreviation "TVA" is purely for descriptive purposes (for example, to distinguish from wind power plants on Buffalo Ridge in Minnesota). No endorsement, no approval, and no involvement by TVA is implied.

Copyright © 2000- hal9000[zat]mensetmanus.net
I last touched this page on Tuesday, 2022-11-15 at 10:26:22 UTC.


W3C Markup Validator Check
Site optimized for any modern browser, any size screen, any resolution, and no plug-ins; prepared and served with Free BSD, and Debian GNU / Linux