[Home] [Windpower Home Page] [Regenesys Dangers] [Directions] [Troubles Nearby] [Dirty] [FOIA] [Ground Zero] [Tour] [Friendly?] [Spinnin'] [Bottom Line - Performance] [Power Calculator] [Basis] [Storage] [Assembly] [Construction] [18 Operating] [Area History] [California Dreamin'] [Texas]
Common sense isn't.
15 More Windmills (Wind Turbines) for Buffalo Mountain
2004 September
After the new windmill components spent some time in Oak Ridge, they were transported up to the Buffalo Mountain power plant site for installation. The following photos are from a visit during this final phase of construction.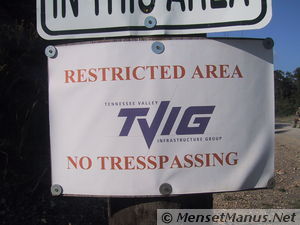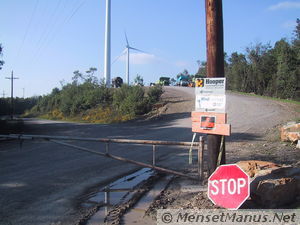 RESTRICTED AREA
Tennessee Valley
TVIG

Infrastructure Group

NO TRESSPASSING
(sic)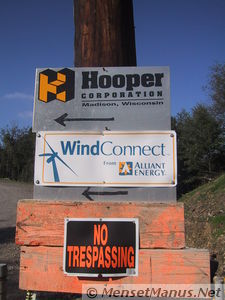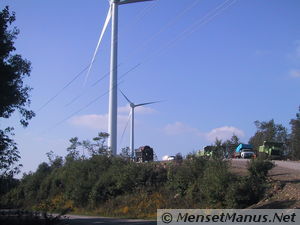 Hooper
CORPORATION
Madison, Wisconsin
Wind

Connect
(archive 2006)
From
ALLIANT
ENERGY
NO
TRESPASSING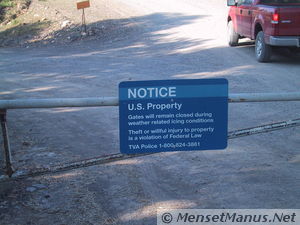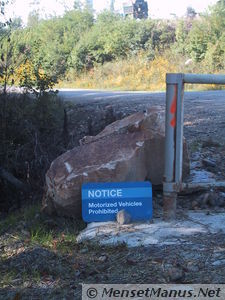 NOTICE
U.S. Property

Gates will remain closed during
weather related icing conditions

Theft or willful injury to property
is a violation of Federal Law

TVA Police 1-800-824-3861



NOTICE

Motorized Vehicles
Prohibited






View of wide road clearing, windmills, shadow and flowers: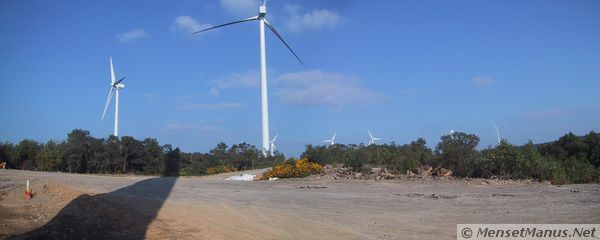 Panorama made from 2 photos, using autopanog, hugin, enblend and Gimp (minor touch-up of central, right blade tip and cloud; distortion of horizon, leaning tower, at right is artificial).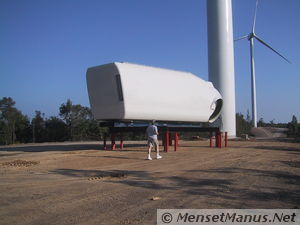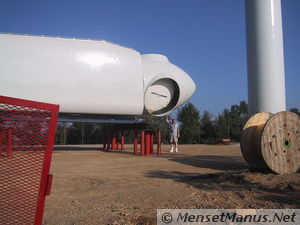 An assembled nacelle on stands on the ground, before installation on tower, offered an opportunity for close-up viewing.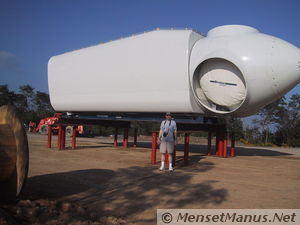 Vestas
890931



The return trip went down a road being used for installing wells and pipelines for extraction of liquid and gas fossil fuels from the mountains.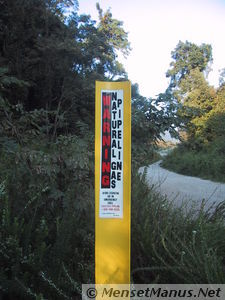 WARNING
NATURAL GAS
PIPELINE
BEFORE EXCAVATING
OR IN
EMERGENCY
CALL
COALFIELD PIPELINE
1-800-498-8225
2002 CARBONITE
View of fossil fuel (oil and gas) extraction operation with view toward strip-mined mountain. Relatively speaking, the impact on the environment is not much different, or arguably less, when compared with the wind turbines.


Panorama made from 3 photos, using autopanog, hugin, enblend and Gimp.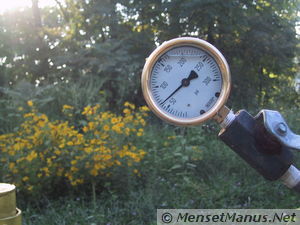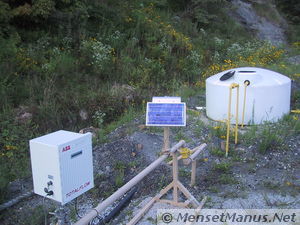 65 psi

Solar panel (right) is used for power for controls and metering for fossil fuel business.




Panorama view where gravel road intersects with Route 116.


Panorama made from 3 photos, using autopanog, hugin, enblend and Gimp.

---

Related Links:

In Oak Ridge before transport to power plant site, nacelle assembly site off Bethel Valley Road, and blade and tower storage site along railroad tracks.

SACE has had a collection of photos showing transport and construction (archive 2007) of the new wind turbines, from July and August 2004.




---


Quote of the moment
I once decided not to date a guy because he wasn't excited to meet my dog. I mean, this was like not wanting to meet my mother.
~Bonnie Schacter ~

Thanks to Highland Media

[Home] [Windpower Home Page] [Regenesys Dangers] [Directions] [Troubles Nearby] [Dirty] [FOIA] [Ground Zero] [Tour] [Friendly?] [Spinnin'] [Bottom Line - Performance] [Power Calculator] [Basis] [Storage] [Assembly] [Construction] [18 Operating] [Area History] [California Dreamin'] [Texas]

Common sense isn't.

Images stored locally for protection of your privacy (unless/until you search with Google).

Disclaimer Fine Print: This site is personal, and is independent of TVA or any other organization. Use of the abbreviation "TVA" is purely for descriptive purposes (for example, to distinguish from wind power plants on Buffalo Ridge in Minnesota). No endorsement, no approval, and no involvement by TVA is implied.

Copyright © 2000- hal9000[zat]mensetmanus.net
I last touched this page on Tuesday, 2022-11-15 at 10:37:12 UTC.


W3C Markup Validator Check
Site optimized for any modern browser, any size screen, any resolution, and no plug-ins; prepared and served with Free BSD, and Debian GNU / Linux