[Home] [Windpower Home Page] [Regenesys Dangers] [Directions] [Troubles Nearby] [Dirty] [FOIA] [Ground Zero] [Tour] [Friendly?] [Spinnin'] [Bottom Line - Performance] [Power Calculator] [Basis] [Storage] [Assembly] [Construction] [18 Operating] [Area History] [California Dreamin'] [Texas]
Common sense isn't.
The disappearing coal mine shaft in Windrock Mountain
Before
After visiting the windmills, around sunset one evening we found our way to an abandoned mine. The opening was still accessible (unobstructed), and we looked around and took a few pictures.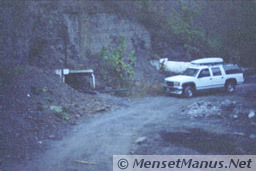 There were two mine shafts. The first is seen in the left center of this picture, and the second was farther to the left. Towards the right, past the Suburban, is seen the remnants of ventilation ducting. A steady stream of water was draining out from the ducting, into a settling pool, and down the hill.
Click picture for larger view (73 KB)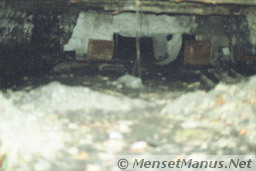 This blurry, poorly lit picture shows the view from the opening into the shaft.
Click picture for larger view (47 KB)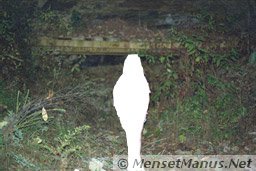 This picture shows the second shaft opening, which is nearly covered with brush and debris.
Click picture for larger view (78 KB)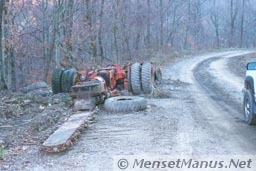 A few weeks later we took these pictures of a piece of mining equipment next to the road a short distance from the mine. By this time, workers were using a bulldozer to cover the mine opening and prepare the area for seeding. Subsequently, this equipment was removed.
Click picture for larger view (94 KB)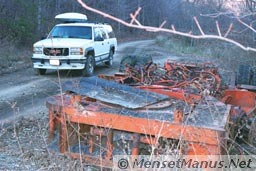 Click picture for larger view (103 KB)

---


Quote of the moment
The heart of animals is the foundation of their life, the sovereign of everything within them, the sun of their microcosm, that upon which all growth depends, from which all power proceeds.
~ Letter to Prince Charles, William Harvey ~

Thanks to Highland Media

[Home] [Windpower Home Page] [Regenesys Dangers] [Directions] [Troubles Nearby] [Dirty] [FOIA] [Ground Zero] [Tour] [Friendly?] [Spinnin'] [Bottom Line - Performance] [Power Calculator] [Basis] [Storage] [Assembly] [Construction] [18 Operating] [Area History] [California Dreamin'] [Texas]

Common sense isn't.

Images stored locally for protection of your privacy (unless/until you search with Google).

Disclaimer Fine Print: This site is personal, and is independent of TVA or any other organization. Use of the abbreviation "TVA" is purely for descriptive purposes (for example, to distinguish from wind power plants on Buffalo Ridge in Minnesota). No endorsement, no approval, and no involvement by TVA is implied.

Copyright © 2000- hal9000[zat]mensetmanus.net
I last touched this page on Monday, 2022-11-07 at 23:39:23 UTC.


W3C Markup Validator Check
Site optimized for any modern browser, any size screen, any resolution, and no plug-ins; prepared and served with Free BSD, and Debian GNU / Linux